More birthday gifts
This past Saturday, a couple days after his "real" birthday, Alex opened all the gifts from his extended family around the world. It turned out to be a good decision to do the gifts in batches so he wouldn't be overwhelmed with too much on one day.

Alex plays with the Play-Doh sent by Great-Grandma Helen.


Great-Grandma Helen also sent a pack of balloons. Alex had fun chasing them around the house.





Great-Grandma and Great-Grandpa Mudgett sent some new books.



Alex watches Matt assemble his new tricycle from Grandma and Grandpa Nelms.





Riding his new trike, sporting his cool new bomber jacket from Grandma and Grandpa Nuckolls.

Posted by leanne at
11:23 AM
Two Years Old!
Alex had a wild, crazy birthday party on Thursday. His guests were six other toddlers who are part of his usual Thursday playgroup. Everybody enjoyed the Hawaiian luau theme, complete with grass skirts fashioned out of trash bags and flower leis made from construction paper. We'll be holding a second gathering on Saturday where Alex will be opening all the presents from family members, far and near, so stay tuned for news of that.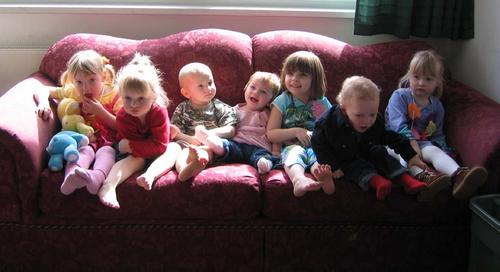 How many toddlers can you fit on a couch? Seven, apparently. From left to right: Bryony, 3; Kayla, 2; Alex, 2; Catriona, 9 months; Alyssa, 3; Ben, 17 months; and Nina, 3.
| | |
| --- | --- |
| "Are all these presents for me?" | Opening more presents, with a little help from Leanne. (Alyssa hams for the camera in the foreground) |
| Alex poses with his "volcano" cake. The red frosting is supposed to be lava flowing out of the volcano. | Enjoying some of the chocolate cake with Bryony. (Looks like Alex might have dropped some on his lap) |
Posted by leanne at
09:18 AM