April 10, 2004
Leanne and Alex
Family and friends have mentioned from time to time that there are almost no pictures of Leanne on Alex's Web site. This is mostly because she's the one taking all the photos. So, to squelch all the rumors about Matt having surreptitiously traded her in for a supermodel, here's a picture of Leanne and Alex, both looking straight at the camera for once.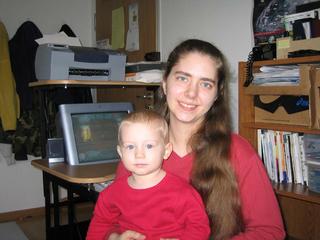 Posted by leanne at
02:23 PM
April 07, 2004
Toddler comedy
Alex cracked his first joke today. He put a stuffed animal on his head and said, "Hat," and then he giggled like it was the most hilarious thing in the world. For low-cost home entertainment, nothing beats an Alex.
Posted by leanne at
01:19 PM
April 03, 2004
Personal Pronouns
Where's your nose? Where's momma's nose? Where's my nose? Where's pappa's nose? Where's Alex's nose? Where's Beauford's nose? For answers to these questions and more, ask your local Alex.
Posted by mnuck at
12:09 PM